Not a facelift but a new-generation model, it's a concerted effort to put the 'premium' in Maruti Suzuki's premium hatch.
The reason the new Maruti Suzuki Baleno looks a lot like the old Maruti Baleno, says the team that developed it (at a not inconsiderable cost of Rs 1,150 crore), is that they wanted people to recognise it as nothing but a Baleno. They certainly achieved that and then some, because it looks perhaps a little too much like the car it replaces, to the point that many might mistake it for a mere facelift. That couldn't be further from the truth though, as this is a brand-new model from the grounds up, with entirely different body panels, a completely new interior, improved safety and lots more equipment. In short, it's way more than meets the eye.
2022 Maruti Suzuki Baleno exterior looks very similar
Though the overall shape is the same, every single body panel on this Baleno is new. The bonnet is flatter and wider, the grille is much larger, as is the chrome applique that runs beneath it. The lower bumper has a lot more sculpture and houses new LED fog lamps. The most obvious change is the new set of LED headlamps that feature the Nexa brand's new three-block Daytime Running Lamps signature (we saw something similar on the XL6 before this) that are wider at the base and then sweep up into the front fenders like before. It gives the nose a greater sense of width, and a similar trick is used at the rear, where the LED tail-lamps – also with a three-block signature – extend onto the new tailgate.
The new rear bumper is, as before, rather tall and once again requires you to haul luggage over a high loading lip into the sizeable 318-litre boot (albeit 21 litres less than before). In profile is where things look largely the same, and the Baleno's cab-forward shape hints at the big space on the inside. The chrome strip under the windows kicks up at the C-pillar now, and there's a new set of dual-tone, precision-cut 16-inch alloy wheels, but you'll also notice there's quite a chasm between the wheels and arches. Incidentally, the car is 5mm shorter and 10mm lower than before, but you can barely tell.
And, yes, for those asking about crash worthiness, Maruti Suzuki states the new Baleno meets all current crash test norms and, in fact, uses a greater percentage of high-strength and ultra-high-strength steel in its construction. This combined with the additional equipment has resulted in a weight gain to the tune of 55kg in top-spec models, and yes, for what it's worth, you can feel a bit more heft in the door shut than before.
2022 Maruti Suzuki Baleno interior quality is much better
The old Baleno's interior design was unique, with its V-shaped centre console and big, circular AC display, but beyond that, there wasn't much to write home about. This time, there is, and the interior transformation is even bigger than the one outside. The new dashboard design is aesthetically pleasing with its bold use of blue and dark grey primary plastics, and glossy light grey and piano black accents. The sportier flat-bottom steering from the Swift has been brought in here, which suits the new cabin much better, and the dials, though analogue, are crisp and easy to read. Pride of place, of course, belongs to the new 9.0-inch touchscreen (more on this later) that sits bolt upright in a monolithic binnacle and is within easy reach. You can even find some 'borrowed' design elements from luxury cars – which is only a good thing – like the central AC vents from BMW and the speaker grilles from Audi, for example.
More than even the design, though, what impresses is the immediately noticeable step up in quality, which has gone from hard-wearing and passable to potentially class leading. There's a softness to the leatherette on the steering wheel and particularly the elbow rests that feels very premium, and there's a rich texture to all of the plastics. Even the new toggle-like AC controls are well damped and backlit. In fact, we'd go as far as saying the Baleno sets a new high watermark for Maruti Suzuki in terms of quality.
What lets the interior down and stands out like a sore thumb in this otherwise well-executed cabin is the basic-looking knitted roof liner; a woven one would have completed the premium package. You get big door pockets, a well-sized glovebox and decent storage in the centre console, with big cupholders and a small bin under the armrest.
Also hugely improved are the seats. The front ones now feature more lateral and even shoulder support, and the bolsters, while not outright sporty, do offer more support than the flatter seats of before. There is a springy softness to them that adds another layer of comfort between you and the road. The rear seats too are far better contoured, offering up good under-thigh and lateral support. Space was always excellent back here and that hasn't changed; there's plenty of room for even tall passengers to stretch out, but it's a shame there is no rear armrest. What they have added, however, is rear AC vents and two USB ports – a standard one and a Type C. Incidentally, up front, you get a 12v socket and a standard USB for charging and data transfer.
2022 Maruti Suzuki Baleno features and safety get huge upgrade
Having lagged behind rivals in the past, Maruti knows it needs to have the latest features and technology, more so in this premium hatchback segment, and has loaded the new Baleno up. The obvious place to start is the new touchscreen, which at 9.0 inches feels like a properly modern unit. It's responsive to touch, aesthetically pleasing, has a high refresh rate and smooth animations, and is high resolution too. Unusually, this new Smartplay Pro+ system comes only on the top Alpha variant, while lower variants get a smaller 7.0-inch touchscreen, with the Zeta getting a more basic Smartplay Pro software, and the Delta getting the last-gen SmartPlay Studio interface from the old car.
The Pro+ software feels bang up to date though. It gets voice commands, connected car tech with a partner app and Amazon Alexa integration (this last feature was not yet installed on our test cars). There is no onboard e-SIM though, and it will rely on your smartphone for data. It also gets a six-speaker sound system with Arkamys surround software that lets you pick from presets or adjust a number of facets of the audio. Unfortunately, despite all the settings, the sound isn't quite as crisp or punchy as we'd have liked, and rivals offer better.
Then there are the two segment-first features – a 360-degree camera array and a heads-up display (HUD) – neither of which feels strictly necessary in a family hatchback, but both of which do add a lot of wow factor. The surround camera display isn't the sharpest, but it gets the job done, even showing you a 3D external view of the car, and you can always switch to a standard rear-camera layout if you prefer. The HUD actually packs in a lot of info, like speed, revs, real-time fuel economy, current gear, and even changing AC fan speed and temperature. But you don't really need any of that info to constantly look at, do you? What you really could use at eye level though is turn-by-turn navigation and that's sadly missing, but Maruti Suzuki says it will come a few months down the line with a software update.
Other than the much-touted HUD, segment staples return: auto climate control, auto-folding mirrors, auto headlamps, Apple CarPlay and Android Auto (albeit not wireless), cruise control, keyless entry and go, rear wash and wiper, and a colour MID and trip computer. Some popular features that rivals offer are missing here though, like a cooled glovebox, a tyre pressure monitor, digital dials, a sunroof and a wireless phone charger.
Apart from the aforementioned chassis and body strengthening, safety has been given a bump up with six airbags on the top two variants, ESP with hill hold on all AMT variants, and front disc brakes an inch larger at 14 inches. Apart from that, there's the standard stuff like rear parking sensors, ABS with EBD, ISOFIX child seat mounts, speed and seatbelt warnings, and standard dual airbags.
2022 Maruti Suzuki Baleno 1.2 petrol engine gets new AMT gearbox
Under the bonnet, things also seem to be the same as before, but again, not quite. In its last iteration, the Baleno came with two 1.2-litre naturally aspirated petrol engines – the K12B with 83hp and the K12C with 90hp. The former was an older generation of this engine and came with a five-speed manual or a CVT auto. The latter, a newer version, came only with a manual, but featured 'DualJet' – Suzuki speak for two injectors per cylinder – dual variable valve timing (VVT) and a higher compression ratio. But it also got an integrated starter-generator with engine stop-start and a mild-hybrid system with a second battery that even added a mild electric boost.
The new Baleno uses an even newer version of the engine, called the K12N. First introduced in the facelifted Swift and Dzire, it ditches the mild hybrid system, but retains everything else from the K12C, including its outputs of 90hp and 113Nm. What's also been ditched is the CVT automatic option in favour of a five-speed AMT, in all likelihood to improve fuel economy – at 22.94kpl, a claimed 15 percent increase over the CVT – and help lower emissions to meet the upcoming CAFE 2 regulations. What's it like in practice though?
The quest for better economy means it's not quite as free revving as the original K12B, but then it's still more enthusiastic than some rivals' naturally aspirated 1.2 engines. This K12N still gets you off the line without hesitation, but dips into a weak mid range just before the 2,000rpm mark. Keep the revs going and it gets a second wind at around 4,000rpm. Suffice it to say, if you want to maintain a steady and heady pace in the new Baleno, you should keep the revs high, but just to amble along around town, it'll do it quite smoothly at low revs. Refinement remains pretty good, with both engine and road noise staying out of the cabin for the most part.
The five-speed manual now uses a hydraulic clutch rather than cable-actuated one, and though the benefit wasn't immediately apparent in our short stint of driving, a back-to-back comparison with the old car would undoubtedly reveal an improvement. The clutch action is light, and the gearbox itself is nice enough to row through, with smooth, short throws.
As for the shift from CVT to AMT, yes, it does feel like a step backward in terms of the smoothness you expect in a premium hatchback. The Baleno was the sole CVT offering in the Maruti line-up and this was one thing that set it apart from the Swift, which also uses an AMT. The Baleno's AMT, however, is one of the better of its kind, and you can tell the technology has come a long way. You will still get noticeable hesitation and 'head nod' between first, second and third gears at anything above crawling pace. There's a manual mode operated via the lever; recommended if you're really in a hurry, but even here there's a slight pause during shifts. However, the advantages to fuel economy – and price (the Alpha AMT is roughly Rs 35,000 cheaper than the equivalent CVT of before) – should make most overlook the shortcomings for the convenience of two-pedal motoring.
2022 Maruti Suzuki Baleno all new suspension and better steering
The Baleno has been given all-new suspension, and you can tell within a few minutes of driving. Almost all components have been replaced, with notable changes including a new torsion beam at the rear, new springs all around, 20mm of increased suspension travel and recalibrated damping at all four wheels. The resultant ride quality can best be described as more sophisticated, as it improves comfort with almost no cost to handling.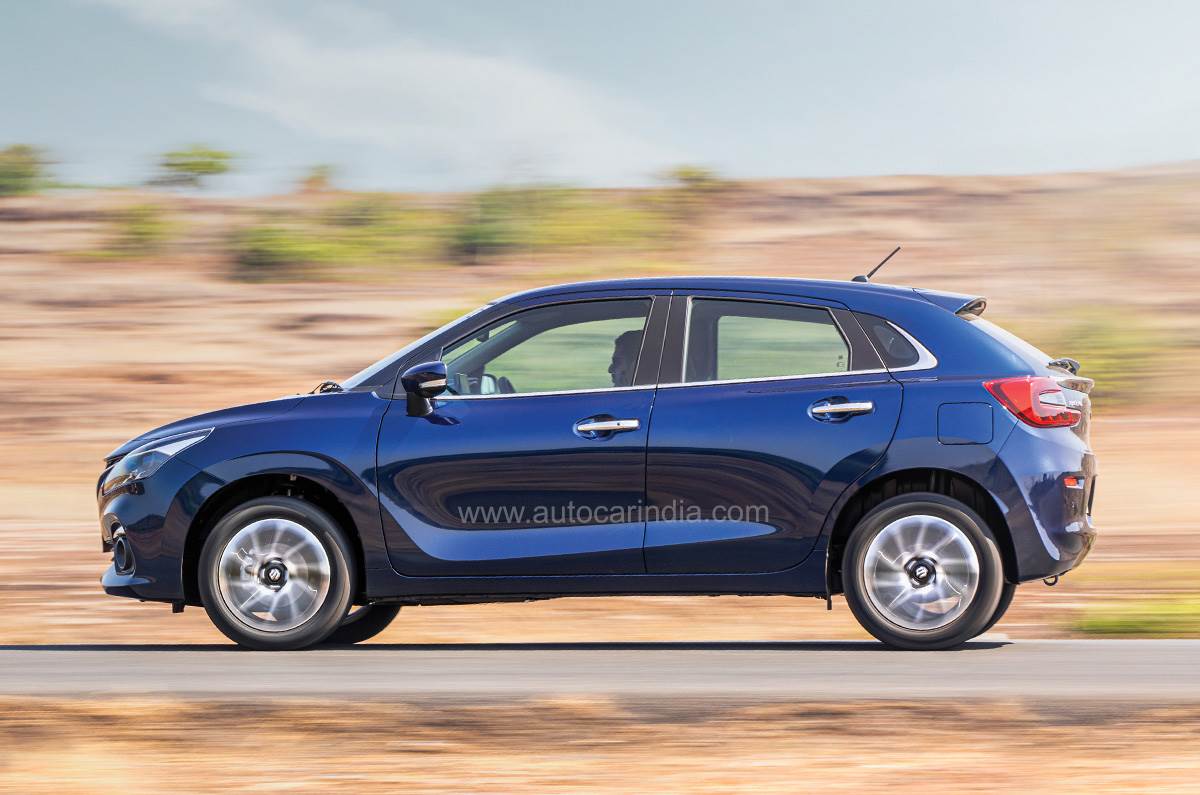 The old Baleno rode well enough, but felt a bit brittle and stiff kneed at times, whereas this one soaks up much more of a bad road. It's clearly softer than before, which is what you will want in this car's natural environment – the city. Low-speed ride is great and even at a middling pace, you'll like how well it irons out road imperfections. It's only once you get to highway speeds that you'll feel some pitch and bounce in the back seat, and that's something to bear in mind on an outstation trip.
Handling, meanwhile, has also taken a step forward, thanks in a big way to the upgraded steering. A huge weak point on the old car, this new one has been given a lot more weight, it turns the car a lot quicker and it returns to centre far more willingly. It's nice and light at low speeds, making it great for urban manoeuvrability, but it adds some reassuring weight as you go faster. It's still not the most feelsome though, and there is a bit of slack at the straight-ahead position. The suspension also delivers good body control at speed, giving you confidence to make high-speed lane-change manoeuvres, and the small amount of roll you get in corners is a forgivable amount. So while not the last word in driver engagement, for its purpose as a city car with occasional highway use, the new Baleno works brilliantly.
2022 Maruti Suzuki Baleno price is competitive with rivals
As you might imagine, with all the improvements and additions, the Baleno's price has gone up, starting at Rs 6.35 lakh and going up to Rs 9.49 lakh (ex-showroom, India). It still comes across as very good value though, as in its segment, only the Tata Altroz is priced lower, with the Hyundai i20's prices going a few lakhs higher. An important difference, however, is that each of those rivals offers buyers the choice of three engines – an entry level 1.2 petrol, a diesel and a turbo petrol. The Baleno has to fend all these options off with just a single engine, and not the strongest one at that. The K12N does its job well enough, but buyers looking for that bit more excitement will be left wanting.
As for the shift from CVT to AMT for the automatic, thankfully it doesn't feel like as big a step back as we feared, and it's only a matter of time before you learn to drive around the hesitation of the shifts. The Baleno should have looked more different to the old car too, simply to do justice to all the engineering that's gone into it; just look at the new Celerio versus the old one. It's all too familiar, but at least it's bold and features all the design elements Indians like in their cars.
Ultimately, while the Baleno doesn't break any new ground, it has been updated in all the right areas to make it a more-premium premium hatchback. There's far greater sophistication in the ride and handling department, it sets new benchmarks for interior quality and comfort, and the safety and equipment on offer is right up there with the best.
Last year showed us that rivals are slowly but surely eating into the market leader's dominance, and this is a clear sign that India's biggest carmaker isn't going to take it lying down. Where previous Maruti Suzuki products have felt capable and sensible, but not much more, the new Baleno feels like a concerted effort to not just be the bestseller, but the best product in its segment.
Also See:
2022 Maruti Suzuki Baleno video review
2022 Maruti Suzuki Baleno launched at Rs 6.35 lakh